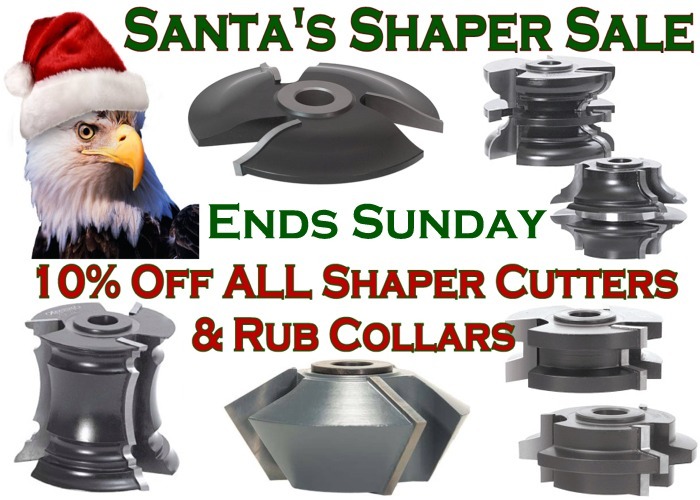 10% OFF All Shaper Cutters and Rub Collars--Ends Sunday!
Limited time sale ends Sunday, 12/8/13, at 11:59 pm ET. Choose from anything in our wide selection of high-quality, carbide-tipped shaper cutters and rub collars. All our shaper cutters feature precision ground steel bodies, a special coating to prevent rust and resin buildup, and three-wing anti-kickback design. We have a full selection of shaper cutters for any need, including door construction, edge forming, glue joints, molding, flooring and much more.
*Offer excludes prior purchases. Sale ends Sunday, December 8, 2013, at 11:59 pm ET. Must click through this e-mail or enter Promo Code EML131206 in the cart for extra 10% discount to apply. Additional discount will be shown in the cart.
---
Don't miss our Great Gift Ideas section, organized into categories to Fit Any Budget, plus a special selection of items chosen so you can Build the Perfect Gift to give to someone special. We also have Gift Cards available. Plus, you can Create and Share a Wishlist so your loved ones can get you the perfect gift with ease.