HOLIDAY SALE Catalog is Now Here! Over 35 items on Sale!
---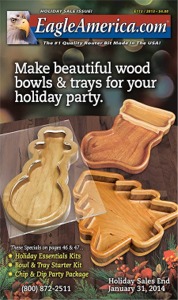 Our newest catalog is Overflowing with incredible Sales for the Holiday Season.
Save $40 on a Triton router.
Save over $200 on a boxed Router Bit Set of top-quality, EAGLE brand bits with 3 bonus items.
Save on jigs, templates, router bits, clamps, accessories and so much more.
Don't miss our Holiday-themed Bowl and Tray Template Packages, perfect for making homemade conversation pieces for your next holiday party.